More than Coffee – No. 2
Another inspirational morning shared by beautiful souls!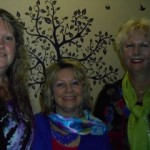 Spirit provided a very different 'More than Coffee' morning on Tuesday morning just gone – the 18th of March, 2014. Being a small group it was intimate, relaxed and 'Spirit' held a space of  'Love' in a safe, friendly environment. It felt like old friends catching up for a cuppa……. We shared heavenly nibbles, the celebration of life through the lens of experience, wisdom, laughter, Divine Guidance and a sprinkle of Universal Healing for both the Heart and Soul! If you would like to be apart of More Than Coffee then please contact me WHERE: Conversations Cafe – 40 Murray Street, Gawler NEXT SESSIONS: Tuesday the 15th of April, 2014
TIME: 10.15am for a 10.30am START COST: $50.00 (Including Morning Tea) Please email me:   di@inspiredbyspirit.com.au or ring me on:   85230559   to register your interest or make a personal appointment. Remember when you take a step towards the Universe it will take 10 steps towards you!