Wow what great morning with a full house!
A new format, combining intuitive education, psychic insights and awareness of Divine Guidance, Angelic Messages, Life Purpose offering 'Spiritual Opportunities Solutions' for areas of life needing a little angelic assistance.
Bringing new people together, but also those who have career links and past connections!
Archangel Michael wears a suit of armour and holds a sword and a shield.    

This uniform symbolises and reflects his ability to provide protection, inner-strength to combat negativity such as stress, isolation, anger, anxiety, conflict, depression, disease and fear. Plus courage to stand our ground, heal and move forward.
Archangel Michael additionally knows the intimate details of your Divine life purpose, which we are all born with.
His name actually means 'He who is like God'.
In fact when you call upon him and ask for his assistance you are working with the right hand of the Creator, God, Grace, the Universe, Great Mystery, Higher Wisdom.
When you call upon him he will be there because he has the ability to be unlimited!
A follow-up to my blog,  An Expression of Freedom through Illness.

What is Chakra balancing?
Well we all know that we have a physical body composed of major organs, muscles, blood, bones, skin, hair, hormones, nerves etc.
Did you know we also have an energetic body or aura, besides a physical body, which from time to time may become blocked, clogged, weighed down emotionally or just plain rusty which then may require clearing, cleansing and balancing.
Our energy body or aura consists of Chakras. The term Chakras is an old ancient Indian Sanskrit word referring to invisible energy wheels of light. Continue reading →
Card No.: 27 'Time Out'
A follow-up to my blog,  An Expression of Freedom through Illness.
When was the last time you invested into you thru 'time out'?
Had a bubble bath or a soak in the bath infused with bath crystals?
Have you underestimated how important this gift of time is for your body, your sacred temple?
Time to unwind, relax, rest, release emotions and rejuvenate your physical body. To get in touch with your intuition and release stress. Continue reading →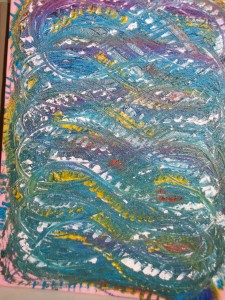 'Card 32' ..Inspired by Spirit, channelled thru Di……
For further info please read my previous blog,  An Expression of Freedom through Illness
Spirit Inspired this piece of tribal looking art just prior to a Journal workshop I attended recently in July.
I had an overwhelming sense of urgency to create this infinity sign over and over again.
Time was short on that particular morning however 'Spirit' was strong, reassuring and insistent.
The beautiful correlation and connection here was the workshop presenter spoke consistently throughout the afternoon how we are all connected and how we are all 'One'.
How our energy is infinite. Continue reading →
'Inspired by Spirit'
what does that mean to you?
When I was looking for a name for my Spiritual Consulting practice, the name Inspired by Spirit popped into my head almost immediately.
If you have ever filled out a form to register a business name you will be familiar with practice of providing 3 different names for consideration for registration.
It was actually challenging to find 2 other names because I knew in my heart and soul this was the name that was a true fit for what I do and offer to you.
You just know, Continue reading →
What is Clairvoyance?
The ability to see beings, objects or know information from some other dimension, including spirits, guides and guardian angels or sometimes, future events.
Sometimes, this is called or referred to as 'second sight'.

A ability to perceive a wider range of input and frequencies than our normal five senses. Continue reading →
Do you use your intuition?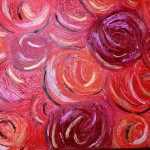 Do you listen to your feelings?
Do you trust your gut feelings?
Do you take action? Continue reading →
If a child lives with criticism,
He learns to condemn.
I
f a child lives with hostility,
He learns to fight.
If a child lives with ridicule,
He learns to be shy.
If a child lives with shame…. Continue reading →