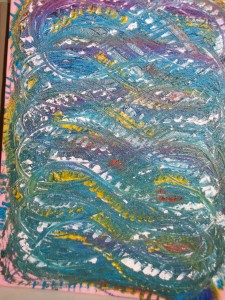 'Card 32' ..Inspired by Spirit, channelled thru Di……
For further info please read my previous blog,  An Expression of Freedom through Illness
Spirit Inspired this piece of tribal looking art just prior to a Journal workshop I attended recently in July.
I had an overwhelming sense of urgency to create this infinity sign over and over again.
Time was short on that particular morning however 'Spirit' was strong, reassuring and insistent.
The beautiful correlation and connection here was the workshop presenter spoke consistently throughout the afternoon how we are all connected and how we are all 'One'.
How our energy is infinite. Continue reading →
You may have plenty of 'wishes' or desires. How serious are you about achieving them?
You would not build a house or a building without a plan. You would not try to steer a boat without a rudder?
That's certainly a good way to keep yourself distracted by wasting a lot of time, energy, only adding confusion and drama to your life. That will keep you busy going around in circles or stuck in the same old space for quite some time. Continue reading →
An Attitude to Gratitude Journal
Everyday, yes everyday,  if you truly wish to empower your life,  I strongly suggest you start acknowledging and giving thanks for your daily blessings!
A very easy exercise.
Requirements – one pen, one journal – make it something personal and special.
5 – 10 minutes of your time – a lot less time required when you master it! Suggestion – last thing at night, or first thing in the morning while you are still in bed.
Also required….. Continue reading →