A very powerful and effective method, a 'free tool' to assist you with 'releasing emotions' which may allow you to 'let go' and  'spiritually grow'!
You will require:                                               
A pen                                 
Paper                                 
A drink
Preferably a quiet home
A comfortable chair
This is an opportunity to release pent-up emotions, negative thoughts and behaviours on all levels, without judgment or criticism from outside influences.
It is very important to follow the instructions closely for the best outcome.
Archangel Michael wears a suit of armour and holds a sword and a shield.    

This uniform symbolises and reflects his ability to provide protection, inner-strength to combat negativity such as stress, isolation, anger, anxiety, conflict, depression, disease and fear. Plus courage to stand our ground, heal and move forward.
Archangel Michael additionally knows the intimate details of your Divine life purpose, which we are all born with.
His name actually means 'He who is like God'.
In fact when you call upon him and ask for his assistance you are working with the right hand of the Creator, God, Grace, the Universe, Great Mystery, Higher Wisdom.
When you call upon him he will be there because he has the ability to be unlimited!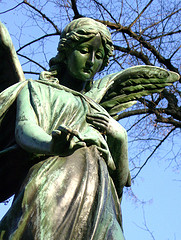 Your Intuition is a very powerful tool and guidance system assisting you in living a happy fulfilled life through effective decision-making and choices.
Intuition is commonly known as the 6th sense, which we all possess, however we do not always listen to or trust and act on.
It is a deep-rooted 'gut feeling' that surfaces everyday and is invaluable in making decisions, both big and small.
Albert Einstein, in a 1918 speech explained Continue reading →
Intuition an opportunity, a link to your higher consciousness, Divine Guidance, Guardian Angels and Spirit Guides.
This year, 2011 is a wonderful opportunity to connect to your intuition and inner guidance.
Each and every moment is a new opportunity waiting for you to connect, trust and act on your personal truth.
To expand your intuition, you need to give yourself permission to move away from Continue reading →
Not Everything                                                                    
that is
faced can be
changed,
but nothing
can be
changed
until
it's faced! James Baldwin
Are you recognizing it's time for change? Continue reading →
This meditation is easy and wonderfully effective!
Step One – remove or turn off any distractions.
Step Two – sit or lie down, make yourself comfy, in a quiet space.
Step Three –Close your eyes and breathe deeply, slowly and naturally.
Allow yourself to gradually relax into a deeper state of peace and serenity.
Step Four – Imagine something that you would like to manifest. Continue reading →
You Never Know…..
What you might achieve until you stretch yourself. Continue reading →
What is Clairvoyance?
The ability to see beings, objects or know information from some other dimension, including spirits, guides and guardian angels or sometimes, future events.
Sometimes, this is called or referred to as 'second sight'.

A ability to perceive a wider range of input and frequencies than our normal five senses. Continue reading →
What to expect when you attend an appointment with Di Goulding.
Initially, I will tap into your energies from the time you initially contact me!

 Your spirit guides, guardian angels and mine are very enthusiastic and motivated to start the moment that first contact is made.
Sometimes, they have been waiting for this opportunity of Divine timing for sometime! Continue reading